As traditional digital signage is subsumed under the concept of Internet of Things (IoT) in the mind of end-users, the industry must develop solutions with increased awareness of total solution security while still delivering 21st century consumer driven experiences.   High profile security events have elevated the importance of device security to the forefront when end-users choose devices.  Low power, HTML5 digital signage devices can deliver a simple consumer interface and increased device security with a low total cost of ownership.  We will examine these industry trends and give some goal posts to guide product development and solution selection in this changing environment.
We will compare some of the operating systems and management platforms for HTML5 digital signage players, including security implications, total cost of ownership considerations and synergy with industry trends.  This information will empower you to make informed decisions as you traverse the ecosystem and gain from the collective industry experience so far.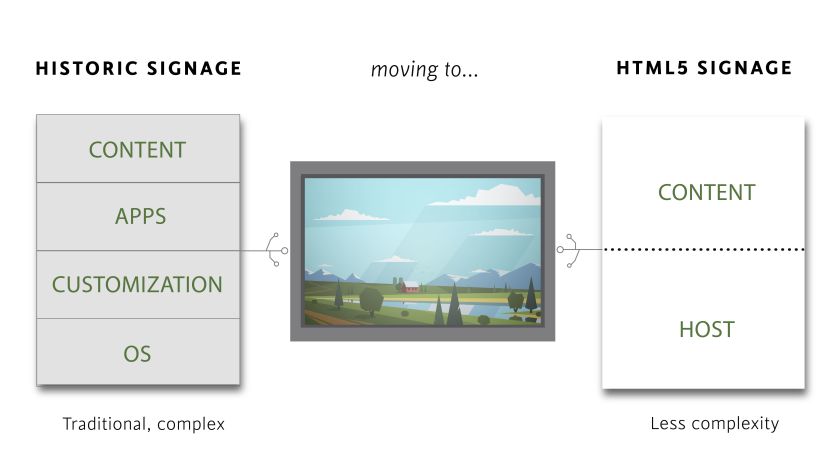 Where the Winds are Blowing
Trends in software development, new low-power, hardware trends and customer product selections are clear- HTML5 base digital signage is a permanent solution option that will continue to be an increasing percentage of deployments. 
Many digital signage CMS vendors have "traditional" and HTML5 signage authoring and distribution offerings as a part of their product portfolio because of the need to address this trend towards low-cost android/Chrome OS players and associated customer demand.  As vendors decide where to invest in their platforms, we see increasing investment in HTML5 platforms over other platforms as a consequence of limited resources and customer demands for inexpensive players.  At the same time HTML5 players are more capable of playing rich, interactive content as low power process performance increased and economies of scale.
With HTML5 as a common platform, selection of hardware to display the content can focus on performance and platform characteristics rather than delving into the minutiae of a traditional signage implementation.
Key Operating Systems in the Ecosystem
The most common operating systems available are Google Android and Chrome OS, Windows Embedded Standard (and the newer Windows IoT Enterprise) and Linux.  Although a recent addition without a significant install base, Windows 10 IoT Core Pro will be discussed as disruptive new operating system option.
Some suggested criteria for evaluating devices and platforms:
Can the device receive security updates and application patches after deployment?

How long will the device/OS/Platform receive security updates?

Are the devices able to be managed en masse?

Is it easy to make project specific customizations to the firmware, configuration and branding of the device?

Does the device have hardcoded/hidden device management credentials?

Will the device pass a corporate customer's vulnerability scanning requirements?

How long is the hardware available for? Will it still be available after the RFP or bid is accepted by a customer and during the lifetime of the deployment?
Next, we will examine these questions under the context of common operating solutions offerings.
Google Android based devices tend to come as low-cost, fanless, ARM processor based hardware.  The primary pain point in initial platforms were a lack of management features, un-patchable and insecure systems and short lifecycle hardware.  While there are vendors that have devices that can be patched in the field, a remarkable number of installed devices have a fixed Android version and no capability of receiving security patches.
The key differences between Google Android and Linux and exact definitions of these terms and how their userlands differ is beyond the scope of this article due to the complexity of terms and number of flavors. However, there are Linux based devices available in the marketplace.  Most are not marketed as such; With HTML5 based players, device and platform capabilities are emphasized in marketing material rather than the traditional "speeds and feeds" of processor type, amount of memory, video adapter and OS.  These solutions should be evaluated individually based on the principals in this article or your own developed selection criteria.
Google Chrome OS devices address several Android OS pain points by delivering product and security updates every six weeks.  However, the frequent updates come at the price of having to continuously test for compatibility issues with your CMS platform and content.  Although the built-in management solution has an open API and is easy to use, it does have a yearly per device cost associated with it that can be a significant addition to total cost of ownership of these devices over a typical three-year lifespan.  These devices also typically suffer from shorter device lifetimes.
Microsoft Windows Embedded operating system can support HTML5 digital signage applications, the additional hardware cost to support Windows, combined with the need to configure and maintain unused, but present components tends to make this operating system non-competitive for HTML5 deployments when compared against other solutions.
Microsoft Windows 10 IoT Core is a newer, low-cost embedded operating system designed for a variety of smaller footprint devices.  The OS maintains Universal Windows Platform (UWP) app compatibility that is a common feature of all Windows 10 OS SKUs, but consumes minimal resources while supporting a single foreground app.
Windows 10 IoT Core positively addresses several concerns previously mentioned in this article with key features:
10 years of hardware vendor independent security patching

Single app focus

Supports at-rest disk encryption

Open management options utilizing OMA DM standard
One deficiency is that few CMS vendors have UWP based applications or the desire to support another platform to host their content.  We decided to bootstrap this process by developing two components in our Now Micro IoT Player solution: A UWP HTML5 application host, and a lightweight management agent that communicates to the Now Micro Portal.  While not all users will want to use these components, we provide them to flesh the solution out into a drop-in replacement for an Android or Chrome OS solution.
The following architecture diagram illustrates the complete solution, sans hardware: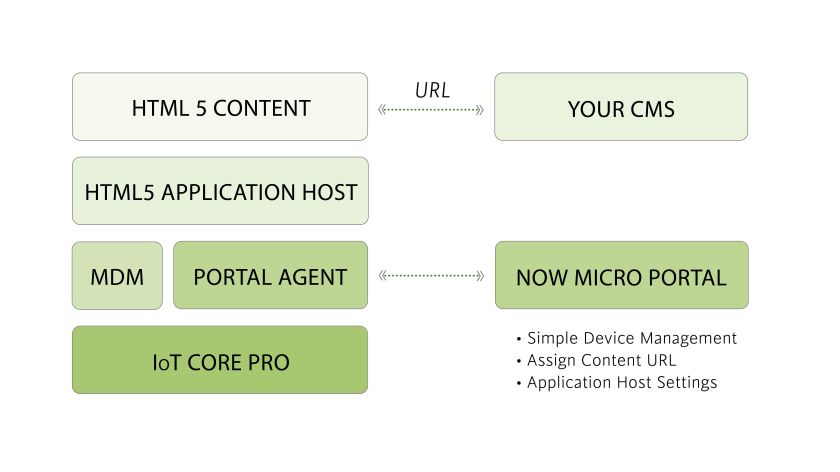 While Windows 10 IoT Core is a newer and not widely deployed offering, we feel it will have a strong place in this market as customers become critical of vendor security postures and gain deployment experiences.
Wrapping It All Up
By understanding what is driving industry trends towards ubiquitous HTML5 based digital signage platforms, ecosystem participants can find solutions that meet their level of security risk appetite, level of automation, openness and manageability, allowing them to focus on the portion of the ecosystem they excel at.  While individual solutions don't always fit into the broad stroke descriptions of this article, understanding what questions to ask and how to evaluate HTML5 digital signage platforms is key to navigating this rapidly changing and expanding marketplace.
Credits: First published in Extension Media  February 2017